.moi Domain Whois Information - .moi is a New Gltd, as released by ICANN - The introduction of .moi will help to diversify and enhance the internet - You can register .moi domains and use them to create .moi websites here.
.moi
.moi
Check availabilty
Other domains

=== Quick Searches ==
=== Full Searches ==
=== IP Packs ==
Important:
When entering your search string don't write "www" or the domain type, ie. "moi". Therefore to search "www.bb-online.moi" enter "bb-online" and nothing else.
The only letters allowed within a domain name are:
a b c d e f g h i j k l m n o p q r s t u v w x y z - 0 1 2 3 4 5 6 7 8 9. Spaces are NOT ALLOWED.
.moi Domain Fees
Prices in Australian Dollars (AUD) Pound Sterling (GBP) Danish Krone (DKK) Euros (EUR) New Zealand Dollars (NZD) Swedish Krona (SEK) US Dollars (USD)
Please Note: Some domain names may be classified by the registry as a premium domain name and will command a higher price.
General Availabilty Pricing
Term
New
Renew

Price upon request. Request Price.


.moi Domain Whois Information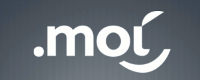 .moi Whois Delegation Record
% IANA WHOIS server
% for more information on IANA, visit http://www.iana.org
% This query returned 1 object

domain: MOI

organisation: Amazon Registry Services, Inc.
address: 535 Terry Avenue North
address: Seattle, WA 98109
address: United States

contact: administrative
name: Stacey King
organisation: Amazon Registry Services, Inc.
address: 535 Terry Avenue North
address: Seattle, WA 98109
address: United States
phone: +12067408515
fax-no: +12062661350
e-mail: moi-rzm@amazon.com

contact: technical
name: Director
organisation: Neustar, Inc.
address: 21575 Ridgetop Circle
address: Sterling, VA 20166
address: United States
phone: +1 844-677-2878
fax-no: +1 571-434-5401
e-mail: technical1@registry.neustar

nserver: NS1.DNS.NIC.MOI 156.154.144.115 2610:a1:1071:0:0:0:0:73
nserver: NS2.DNS.NIC.MOI 156.154.145.115 2610:a1:1072:0:0:0:0:73
nserver: NS3.DNS.NIC.MOI 156.154.159.115 2610:a1:1073:0:0:0:0:73
nserver: NS4.DNS.NIC.MOI 156.154.156.115 2610:a1:1074:0:0:0:0:73
nserver: NS5.DNS.NIC.MOI 156.154.157.115 2610:a1:1075:0:0:0:0:73
nserver: NS6.DNS.NIC.MOI 156.154.158.115 2610:a1:1076:0:0:0:0:73
ds-rdata: 10922 8 1 88880EB4C266BAA8970790DA23F0762A554EF4D9
ds-rdata: 10922 8 2 79AE2EF7222FA5B84797F9E4501809501BBAA2D1831C5F904F54BE200E0B7EDE
ds-rdata: 11077 8 2 0F22F5F87142031AA436C09FBD18EE92A90AA6ED96BD315C82905428A958E22B
ds-rdata: 11077 8 1 8C6A3ACADA5450DFA739381C2B600B9BAB2669CB

status: ACTIVE
remarks: Registration information: http://amazonregistry.com

created: 2015-09-10
changed: 2018-08-22
source: IANA